[ad_1]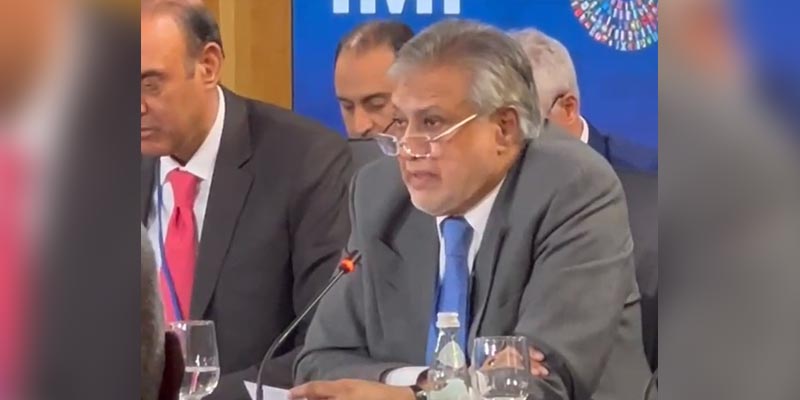 Ishaq Dar assures IMF of Pakistan's commitment to complete programme.
Finance czar pleads IMF, other institutions for more policy support for Pakistan.
Dar holds several important meetings during his visit to Washington, DC.
---
WASHINGTON: Finance Minister Ishaq Dar Sunday urged the International Monetary Fund (IMF) and multilateral donors to provide Pakistan with greater policy support following the impact of climate-induced floods on the country's economy.
Speaking during a meeting of MENAP (Middle East, North Africa, Afghanistan, and Pakistan), the minister urged IMF to modify its response to Pakistan's situation and that of other countries going through similar issues by considering the grave economic, social, and political challenges faced by them due to calamities triggered by climate change.
This meeting in Washington DC was attended by finance ministers of different countries and central bank governors, while the IMF's Managing Director Kristalina Georgieva was also present.
Shedding light on the humanitarian crisis and the disaster's scale, Dar pleaded for more policy support for Pakistan.
The minister welcomed new IMF instruments Resilience and Sustainability Trust (RST) and Food Shock Window under Rapid Financing Instrument (RFI) to support countries.
He also thanked the IMF managing director for her sentiments and commitment to completing the Fund programme despite challenges.
Meanwhile, the finance minister and State Bank of Pakistan Governor Jameel Ahmad met Queen Maxima of the Netherlands on the sidelines of the annual meetings of IMF-World Bank to discuss financial inclusion and banking on equality.
The two sides reiterated their commitment to work together to achieve fast progress in the subjects discussed.
The minister also held a meeting with Asian Development Bank (ADB) President Masatsugu Asakawa and thanked him for the support provided over the years as a major development partner of Pakistan and also for the recent post-flood commitments.
The ADB president assured the finance minister of approval of the BRACE programme amounting to $1.5 billion and of continued support to Pakistan.
[ad_2]