After a month of announcing the Ehsaas Emergency Program, the federal government has successfully distributed emergency cash among millions of deserving families.
Imran Khan launched an SMS service that connected the most deserving families to the government's database for Ehsaas Emergency Cash.
Under this program, the federal government provided Rs. 12,000 to every family facing financial crunch due to the ongoing coronavirus lockdown. As per the Chairperson Ehsaas Program, Dr. Sania Nishtar, as many as 10 million families across the country will benefit from this offer.
Moreover, the federal government has transparently disbursed more than Rs. 101 billion among more than 8.2 million deserving individuals to cope with the economic crisis amid the COVID-19 pandemic in Pakistan.
She said that the total allocation for this program is Rs. 144 billion. However, if the demand for Ehsaas Emergency Cash is higher, additional resources will be set aside.
Here is a step-by-step guide on how to register for this Ehsaas program.
Who Can Apply?
According to one of her statements, one individual from each deserving family can apply for the program. However, the following people will not be eligible.
Those who don't have a valid CNIC.
Current or ex-government (federal or provincial) employees and their spouses.
Those who have traveled abroad in the recent past.
Those registered to any other relief scheme under the federal government.
Those who own a property.
Have utility bills of more than Rs. 10,000
Those who have mobile bills equal to or more than Rs. 1,000 per month.
Those having a passport or having applied for one and their spouses.
Whose three or more family members having availed CNIC with executive fees.
How to Apply
The government has kept registration for this program straightforward to ensure that even an illiterate person with basic knowledge of mobile phones can apply.
Here is how you can do it:
To get yourself enrolled for the emergency cash program, all you have to do is to write your CNIC number in an SMS and send it to 8171.
The government will filter out your details in its socio-economic database.
Within the next 24 hours, you will receive an SMS for confirmation or rejection.
If you have been asked to contact district administration, you should not worry. Such people can apply online by using the Ehsaas web portal (here is the link: https://ehsaas.nadra.gov.pk/ehsas/).
Screening Process
In a TV interview earlier, Dr. Sania said that they have a comprehensive system in place to detect the applications from affluent people.
With the help of NADRA, we have developed two layers of people in our National Socio-Economic Registry (NSER) database. In the first layer, the overall filtering based on various parameters, such as, based on their occupation, belongings, and bank balance, will identify the affluence of people.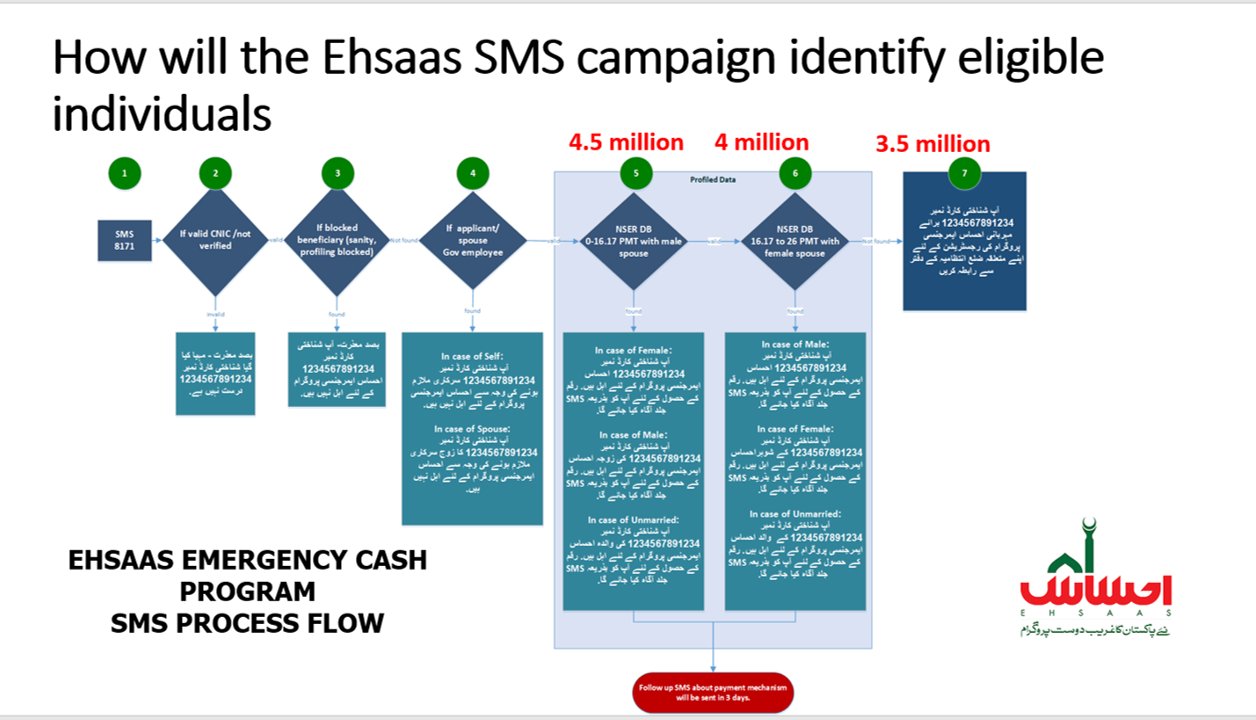 These people will receive a 'regret message' from the system.
How to Track Your Ehsaas Application Status In order to facilitate applicants and volunteers, the government has decided to launch a web portal that will allow them to check their application status for the Ehsaas Emergency Cash program online.
The web portal will allow beneficiaries, who are facing problems in their bio-metric verification, to receive payments through designated banks without prior verification from NADRA.
Habib Bank in Punjab, Sindh, and Balochistan, Bank Al-Falah in Khyber Pakhtunkhwa, Gilgit-Baltistan and Azad Jammu, and Kash­mir will provide services to applicants.
Applicants can get registered for the program directly by entering their National Identity Card (CNIC) number.
How to Receive the Money
People who will succeed through the first layer will be identified as 'poor' in the system and will be considered eligible for the relief fund. After the due process, the system will send them a message with all the details as to which bank they should visit to withdraw their emergency funds.