Kanye West is back at it this morning, flooding Instagram with messages in response to the uproar over his "white lives matter" t-shirts.
Ye posted a text message discussion with Diddy on Friday, likely concerning the contentious shirts. He informs the Bad Boy CEO in the first message that he didn't enjoy their chat and that he wants to sell the shirts because "nobody gets in between me and my money."
Later in the long letter, he tells Puff that he'll "be silent as Virgil" out of "respect," alluding to designer Virgil Abloh, who died in November following a two-year struggle with an aggressive type of cancer.
Ye responded in a second Instagram post, stating they'll meet "face to face as soon as he arrives." 'NIGGA FUUUUUUUCK YOU,' Ye answers, calling him a fed. "See you soon!" Diddy was seen writing in the comment portion of that post.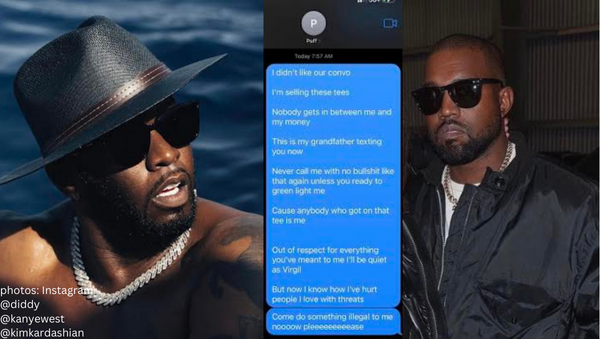 Ye saved another post in which Diddy replies, asking that Kanye stop playing the online game and furnish him an address. Kanye answers, "This is war," after informing the "Gotta Move On" singer that he'll "use" him as an example "to demonstrate to the Jewish people who instructed you to contact me that no one can intimidate or influence me."
Diddy tells Kanye that he's trying to "speak to him as a black guy" since it's "hiring our people" in order to get him to appreciate the impact the shirts have on the Black community at large.
Diddy recently expressed his displeasure with the shirts. He shared his sentiments on Instagram this week, noting that although he respects the DONDA artist as a free thinker, he doesn't sport the shirt.
"Do not wear the shirt, do not purchase the shirt, and do not play with the shirt." "It's not a joke," he said.
Boosie and Kanye beefing?

Oh this is gonna be peak entertainment. pic.twitter.com/DEjq7mo6TF

— Frosted Takes (@FrostedTakes_) October 7, 2022