[ad_1]
KSE-100 index closes at 41,948.50 points.
Shares of 344 companies were traded. 
Trading volumes rise to 328.65 million shares.
---
KARACHI: The bears took control of the Pakistan Stock Exchange (PSX) on Friday and dominated trading during the outgoing week as jittery investors tried to look for positive cues amid growing concerns over the economic and political situation in the country.
A host of robust financial results failed to turn the direction of the market as investors remained cautious ahead of Finance Minister Ishaq Dar's meeting with the officials of the International Monetary Fund (IMF) which can give markets a new direction.
Index-heavy technology and commercial banks were the major laggards where a modest sell-off was observed.
The benchmark KSE-100 index closed at 41,948.50 points with a decrease of 137.22 points or 0.33%.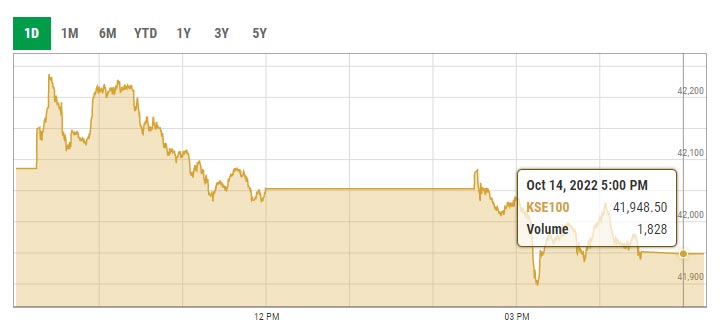 A report of Arif Habib Limited noted that the benchmark KSE-100 index opened on a positive note but couldn't sustain due to a lack of participation which led the index to trade in the red zone during the first trading session.
However, in the second session market traded in a narrow range, main board volumes stayed dull whereas healthy volumes were observed in the third-tier stocks.
Sectors contributing to the performance included technology (-70.5 points), tobacco (-19.1 points), refinery (-9 points), commercial banks (-6.8 points), and investment banks (-6.5 points).
Shares of 344 companies were traded during the session. At the close of trading, 136 scrips closed in the green, 180 in the red, and 28 remained unchanged.
Overall trading volumes rose to 328.65 million shares compared with Thursday's tally of 222.22 million. The value of shares traded during the day was Rs9.61 billion.
Worldcall Telecom was the volume leader with 108.56 million shares traded, gaining Rs0.07 to close at Rs1.59. It was followed by TRG Pakistan with 30.68 million shares traded, losing Rs2.53 to close at Rs125.94 and G3 Technologies with 22.52 million shares gaining Rs0.48 to close at Rs9.52.
[ad_2]