[ad_1]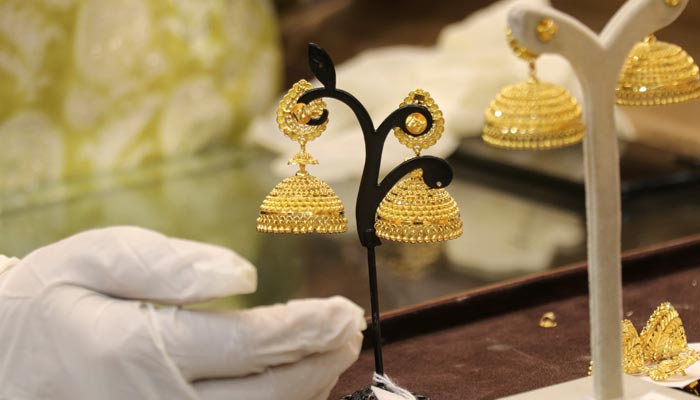 Gold price gains and settles at Rs147,350.
It gains Rs3,550 per tola during the week.
Silver prices remain unchanged.
---
KARACHI: Gold prices held steady on Saturday as investors looked for more clues on the pace of the rupee's depreciation and other economic indicators.
The gold price gained by Rs50 per tola and Rs43 per 10 grams to settle at Rs147,350 and Rs126,329, data released by the All Pakistan Sarafa Gems and Jewellers Association (APSGJA) showed.
Cumulatively, the precious commodity gained Rs3,550 per tola during the week ended October 15.
Gold prices seem to be consolidating. There is a pause in the market ahead of major event risks, with uncertainty regarding the International Monetary Fund (IMF) review due in November and inflation numbers.
The precious commodity is considered an inflation hedge but rising interest rates reduce the non-yielding bullion's appeal.
Pakistan meets almost all its gold demand through imports, and traders follow its international price in setting rates in the country. Jewellers import the metal against the US dollar and UAE dirham before converting its price into rupees.
In the international market, the price of yellow metal declined by $12 per ounce and was headed for its worst week since mid-August, dragged lower by a stronger US dollar and worries the Federal Reserve will persist with sharp rate hikes to curb inflation. The price settled at $1,644.
The price of the yellow metal is increasingly correlated with the moves in the dollar and could fall to as low as $1,600.
Gold rates in Pakistan are around Rs2,600 below the cost compared to the rate in the Dubai market.
Meanwhile, silver prices in the domestic market remained unchanged at Rs1,560 per tola and Rs1,337.44 per 10 grams.
[ad_2]