[ad_1]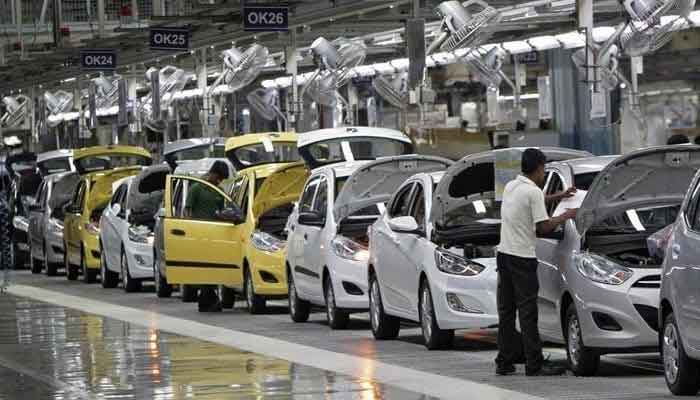 Plant operations to remain suspended from Feb 27 to March 4. 
Three-wheeler plants will remain in operation.
Automotive industry faces hardships due to non-import of raw materials.
---
KARACHI: Sazgar Engineering Works Limited, one of Pakistan's leading auto manufacturers, announced it was shutting down its four-wheeler car plant for a week blaming the government's measures to minimise the imports, The News reported Saturday. 
According to a statement issued by the automobile company, the plant operations will remain suspended from February 27 to March 4 owing to the raw material shortage. 
The company cited the government's stringent measures of minimising imports amid depleting foreign exchange reserves as a major reason for the temporary shutdown. 
"Due to the government's stringent measures of minimising the import of CKD and raw material of vehicles, the company's supply chain has been disrupted and thereby the company has decided to shut down its car plant (four-wheeler plant) from February 27, 2023, to March 04, 2023," it said in a statement to the Pakistan Stock Exchange (PSX).
However, its three-wheeler and automotive parts manufacturing plants will remain in operation during the said period.
Sazgar launched Pakistan's first hybrid vehicle Haval in November 2022, which used the Chinese CKD and sub-assembly plant, a move that was seen as a significant milestone for the company as well as for the Pakistani automotive industry.
The current situation is not unique to Sazgar only, as many other major auto manufacturers, including Indus Motors and Pak Suzuki Motors, are also facing hardships due to the non-import of raw materials. As a result, they are working on shorter working days.
The decline in Pakistan's foreign exchange reserves has been cited as the primary reason for the crisis being faced by the auto manufacturing industry. The curbs on raw material imports have further compounded the situation, leading to a shortage of materials and parts necessary for the production of vehicles.
The situation is concerning for the automotive industry as well as the government, as the sector is a significant contributor to the country's economy.
Although the government is trying its best to increase the foreign exchange reserves and has adopted strict measures in the mini-budget to appease the International Monetary Fund (IMF) and get the bailout programme running. 
[ad_2]
www.geo.tv