[ad_1]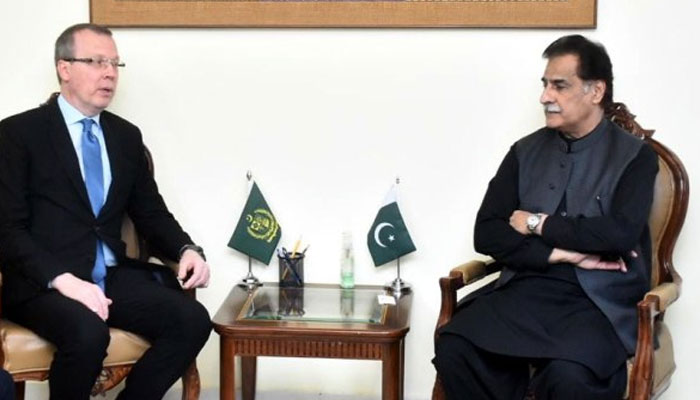 Sadiq appreciated progress achieved in Pak-Russia IGC so far.
Russia aims to utilise full potential of trade with Pakistan, says Ganich. 
Two sides had agreed on late March as timeline for crude oil export.
---
ISLAMABAD: Federal Minister for Economic Affairs Sardar Ayaz Sadiq said Wednesday that the finalisation and implementation of deals under the Pakistan-Russia Inter-Government Commission (IGC) would result in a significant reduction in the prices of oil and gas in the country.
According to a press release issued by the Economic Affairs Division, the federal minister was called on by the Ambassador of Russia to Pakistan, Danila Ganich.
Last year, Pakistan's government sent officials to Russia, after which the Pakistani state minister for petroleum said Russia would sell crude oil to Pakistan at a discounted rate.
In today's meeting, the minister appreciated the progress achieved during the IGC meetings and said that these deals were in the interest of both countries.
He also highlighted the bilateral, economic, and historic ties between Pakistan and Russia and said both sides have always enjoyed outstanding bilateral relations based on mutual respect, trust, and interest.
On the occasion, the ambassador expressed his deepest gratitude to the minister and the Pakistani government for facilitating the Russian delegation during IGC and shared that Russia aims to utilise the full potential of trade with Pakistan.
Both sides reaffirmed their commitment to augmenting advanced collaborations for the good of economies, cultural exchange and mutual assistance to achieve a significant comparative advantage.
Russian oil import starts in March
Following the conclusion of the annual IGC held between Pakistan and Russia, the two sides agreed on late March as the timeline for crude oil export.
Minister of State for Petroleum Musadik Malik had said that Pakistan wants to import 35% of its total crude oil requirement from Russia.
Russia's Energy Minister Nikolay Shulginov, who visited the country, said that Pakistan would pay for energy purchases in currencies of friendly countries.
[ad_2]
www.geo.tv