[ad_1]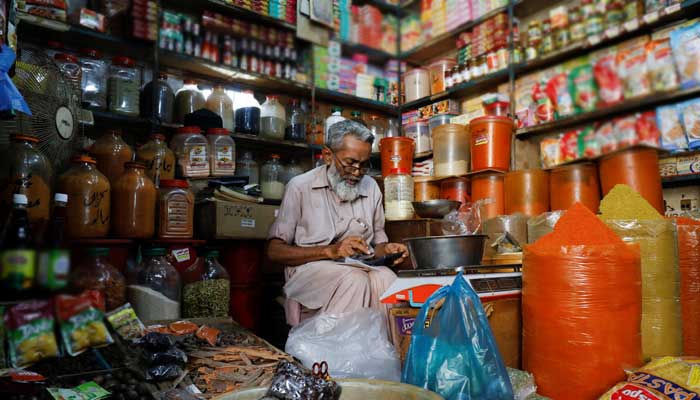 Inflation bites as consumer prices rise significantly.
Hike in prices is the highest annual rise since Sept 2022.
Govt has hiked gas tariff, petrol prices to revive IMF programme.
---
KARACHI: Pakistan's weekly inflation remained stubbornly elevated at 2.78% week-on-week and 41.54% year-on-year during the seven-day period that ended on February 23, official data showed on Friday.
The latest figures of the Sensitive Price Index (SPI) released by the Pakistan Bureau of Statistics (PBS) attributed the rise to WoW increase in prices of gas for Q1 (108.38%), cigarettes (76.45%), bananas (6.67%), chicken (5.27%), sugar (3.37%), cooking oil 5 litre (3.07%), vegetable ghee 2.5kg (2.79%), vegetable ghee 1kg (2.20%) and prepared tea (1.09%).
To get the International Monetary Fund's (IMF) approval for the $1.1 billion tranche out of the $6.5 billion bailout package under the Extended Fund Facility, the government of Pakistan almost doubled the gas charges for up to 3.3719 mmBtu. Previously, the rate was Rs147.57, which now stands at Rs295.
Consumers last saw SPI surge 42.7% YoY during the week ended September 8, 2022 when wheat flour prices reached an all-time high on account of massive flooding across the country.
The PBS attributed the YoY increase in SPI to the rise in prices of onions (372.03%), cigarettes (164.71%), gas charges for Q1 (108.38%), chicken (85.65%), diesel (81.36%), eggs (75.81%), rice irri-6/9 (75.41%), rice basmati broken (74.16%), bananas (72.22%), pulse moong (70.39%), petrol (69.87%), tea (62.76%), pulse gram (57.02%), bread (55.36%), pulse mash (53.90%) and LPG (52.59%).
However, it also noted a decrease in the prices of tomatoes (67.93%), chilli powder (7.42%) and electricity charges for Q1 (6.64%).
The stubborn rise in SPI inflation was expected.
Analysts had said last week that inflationary pressures would intensify as the government has taken tax measures and made electricity, petroleum and gas price adjustments to unlock the IMF programme.
Consumers have been reeling under the burden of rising prices of essential kitchen items, particularly edibles.
As per the PBS data, the average price of 1kg broiler chicken was Rs469.81 during the week under review compared to Rs446.29 last week. Up only Rs23.52/kg.
For the groups spending up to Rs17,732; Rs17,733-22,888; Rs22,889-29,517; Rs29,518-44,175; and above Rs44,175; WoW SPI increased 2.42, 2.86, 2.32, 2.18, and 3.10% respectively.
On the other hand, YoY SPI for the expenditure groups went up 37.81, 39.80, 40.95, 41.94, and 42.98% respectively.
For the week under review, SPI was recorded at 241.29 points against 234.77 points registered last week and 170.47 points recorded during the week ended February 24, 2022.
[ad_2]
www.geo.tv