[ad_1]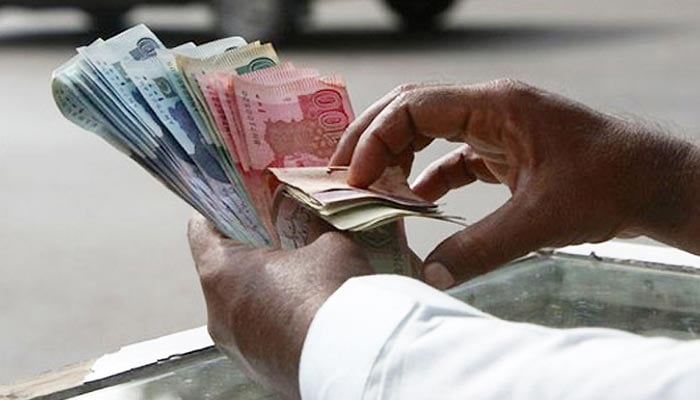 Rupee closes at 220.95 after losing 0.03% in interbank market.
Analyst says rupee's outlook has improved significantly.
Since the start of fiscal year 2022-23, rupee has lost Rs16.1.
---
KARACHI: The downward slide of the Pakistani rupee slowed on Thursday as the encouraging current account deficit number has lent some support to the local unit.
According to the State Bank of Pakistan (SBP), the local currency closed at Rs220.95 in the interbank market after depreciating registering a meagre loss of 0.03% against the greenback compared to Wednesday's close of 220.88.
The market took positive cues from the current account deficit released a day earlier, which narrowed 37% to $2.2 billion in the first quarter of the current fiscal year due to lower imports and a rise in exports.
Commenting on the rupee's movement, Pakistan-Kuwait Head of Research Samiullah Tariq said better than expected current account deficit number has improved the sentiment. "Slight movement was exhibited by the rupee," he said.
Regarding the outlook, Tariq said it had improved significantly with a lower current account deficit number.
Since the start of the fiscal year 2022-23, the rupee has lost Rs16.1 or 7.85% against the US currency — which leaves its imprint on every corner of the global economy as it is the currency in which vital raw materials are bought and sold.
Dar rules out need for 'steps' to support rupee
A day earlier, Finance Minister Ishaq Dar ruled out the need for any particular supportive measures for the rupee, stoking optimism among traders that the 'Darnomics' will soon be able to crack the country's monetary conundrum.
"The rupee has been heavily undervalued," Dar said during an interview with Bloomberg in Washington, where he has been attending annual meetings of the International Monetary Fund (IMF) and the World Bank.
"It is due to speculation — and some players in the market have been responsible for that," he said.
"I thank those players in the market who have realised that that game at the cost of the national currency will not continue," he asserted while highlighting that the exchange rate stabilised after traders learned he would take office.
Responding to a query if he was planning to take any "specific steps" to boost the rupee, he said: "I don't think so. We don't have the luxury of physically spending foreign exchange — it's very scarce at the moment."
[ad_2]