MTMIS Islamabad: Islamabad Vehicle Verification is now operating online services. Now the vehicle owners can verify their motorbikes/cars through online registration.
Islamabad Vehicle Verification Online Process
There is a smartphone application by the name of INCPak Technologies (INCPAK TECH) which can be downloaded from Google play store.
In case of any inconvenience in registering your vehicle, you can now download our Vehicle Verification Online application from Google play store as well.
You can check your vehicle registration directly from there.
On July 1, 2019, an initiative was taken to provide the online interface of the Excise and Taxation Department to the postal authorities of Pakistan within Islamabad province territory. Chief Commissioner ICT Islamabad, Director Excise Islamabad took the decision for the ease of the general public.
08 special counters at different locations have been designated for the collection of Token Tax. The counters are built within the premises of the Excise and Taxation office with the start of the new Financial Year. This is to make sure to avoid long queues and fasten the process of paying tokens.
Between Pakistan Post and Excise & Taxation Department Islamabad, an online interface has also been introduced to collect the token tax of vehicles with Smart Card registration book. Through this public facility, online payment will be made and Excise & Taxation Department will update timely records.
The authorized locations of postal offices in Islamabad to collect Vehicle Token Tax with a Smart Card registration book are below.
Post-Mall F-7.
F-8 Markaz (HSG) Islamabad.
G-9 Markaz (HSG), Islamabad.
I-10/4 (LSG), Islamabad.
DG P.O G-8, Islamabad.
G-10 Markaz, Islamabad.
F-6, Islamabad.
G-6, Islamabad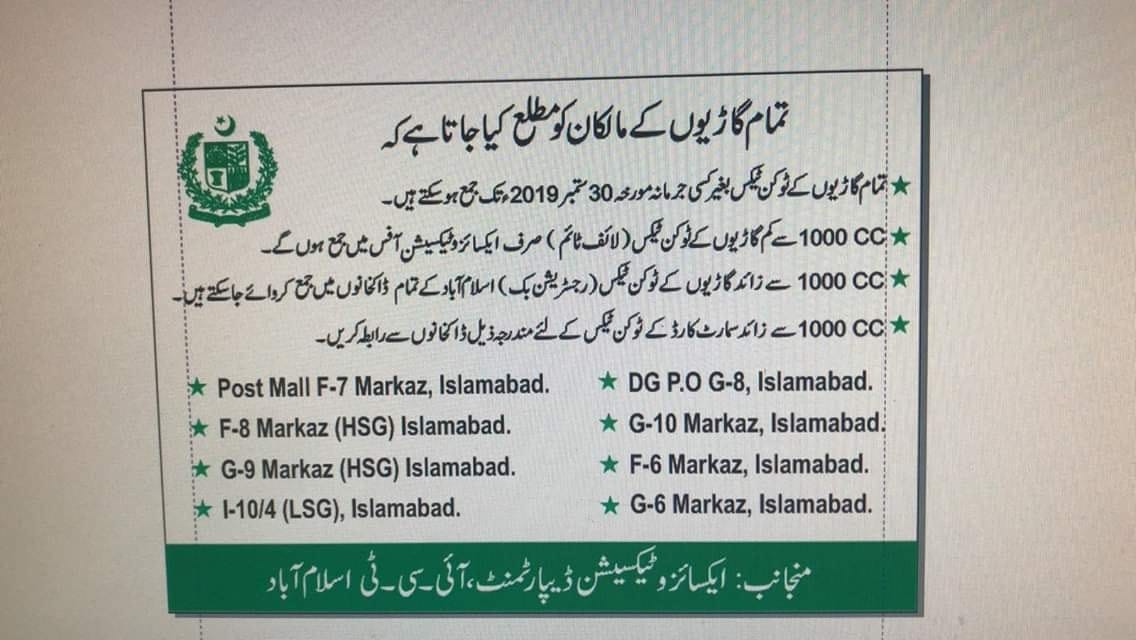 It is to be informed to the general public that less than 1000CC cars will have token tax paid (lifetime) at Excise and Taxation Office only. However, more than 1000CC cars can pay their token tax(registration book) at all the above mentioned postal offices of Islamabad.
MTMIS ISLAMABAD: Online Verification of Registered Vehicle in Islamabad
When you pay the token/tax, your data is updated online within 21 days, if not kindly contact Islamabad Excise Department.
The following sections will appear on the website
Visit Islamabad Excise & Taxation Official site and click on the 'Vehicle Information Detail' box on the right.
After entering the page, you will be directed to a query box where you will fill Registration Number and then press the Search button.
Vehicle Registration Process Through SMS in Islamabad
Open the text message window on your mobile phone
Add in the vehicle registration number and send it to 8521
You will get your updates within a matter of seconds
Here is how you can verify the vehicle registration process via online.
Excise and Taxation Site Link
You may visit Islamabad Excise and Taxation department office for details if needed.
You may call for details and queries as well. Contact on. 051-9107612
Vehicle Verification Online Service is free for the relief of the public and 100% authentic. Now any vehicle's information can be checked just by entering their Number and the result will be displayed.
MTMIS ISLAMABAD: How to Verify Islamabad Registered Vehicle online? 
Follow the steps below:
Go to Islamabad Excise & Taxation Official site and on the right side 'Vehicle Information Detail' box appears, click on it as shown in the image below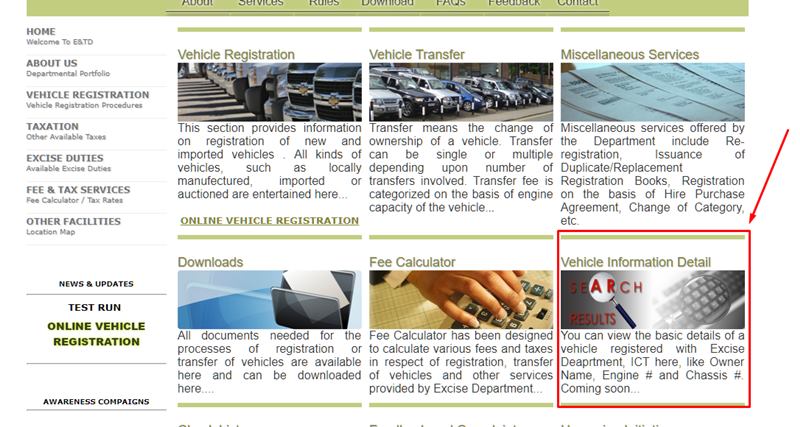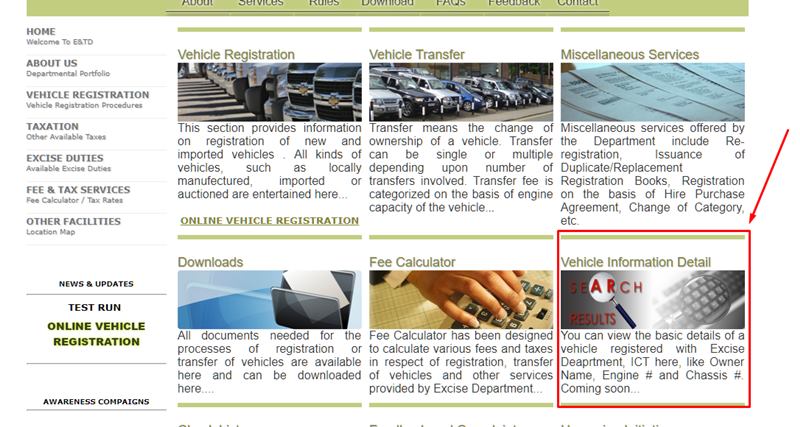 2. Once the page is open > click on the 'Vehicle Information Detail' box as shown in the above image.
3. It will redirect to the Registration Number search query box,  Search page where you Enter Registration Number, as shown below.
Token Tax Update Islamabad
Token paid after the 15th of the month will be updated in the coming 15days or a month on the portal. If you have any queries and want more information, kindly contact Islamabad Excise & Taxation department.