Brittany Higgins
Brittany Higgins is a former political staffer who is currently a Visiting Fellow at the Australian National University's Global Institute for Women's Leadership.
Following her bold choice to publicly declare she was raped by a colleague within Parliament House, she has been praised for generating discourse on gender-based violence and safety inside Australian politics – and the workplace in general.
She has continued to campaign for change in public, most notably during the March4Justice event in Canberra in March 2021.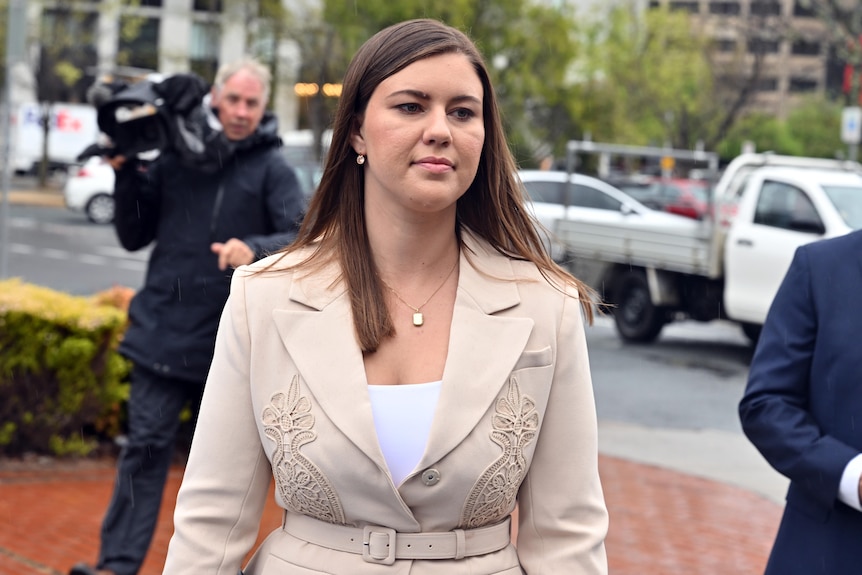 What happened to her?
The government account is inconsistent, and the ex-staffer who claims she was abused has accused the PM of 'victim-blaming.'
Female victims are individuals in their own right, not just a man's wife, mother, sister, or daughter.
Linda Reynolds apologized unequivocally to her former aide, Brittany Higgins, but did not fully address a number of specific questions before the Senate.
This week's parliamentary session has been overshadowed by disturbing accusations that a young political employee, Brittany Higgins, was raped on a sofa in Parliament House. The important facts and timeframe are presented here.
On March 3, 2019, Higgins began working in the office of then-Defense Industry Minister Linda Reynolds. She had previously worked in government for another minister. Higgins claims that three weeks later, on the evening of March 22, a more senior male colleague attacked her on the sofa in Reynolds' ministerial office after a social gathering somewhere in Canberra.
What occurred after that?
Reynolds' office was supposedly cleaned on the afternoon of March 23 at the request of the Department of Finance. According to sources, there has been conflict over access to incident reports chronicling the incidents between parliamentary security, the Department of Parliamentary Services, and the police. Higgins claims she requested access to CCTV video from that evening but was denied.
The coworker accused of assaulting Higgins had his job terminated the following week, on March 26. Reynolds claims that the cause for the firing was a security violation and that this is how the event was evaluated in the immediate aftermath. John Kunkel and Daniel Wong, both members of Scott Morrison's staff, were engaged in the firing of Higgins' colleague.
Higgins told police at Parliament House about the incident on the day her colleague was fired. Higgins met with her employer, Reynolds, and the minister's chief of staff, Fiona Brown, on Monday, April 1st, to address the alleged incident. That debriefing took place in the room where Higgins claims she was attacked, which the government now admits was a mistake. With a federal election approaching, Higgins claims she was told that filing a police complaint would terminate her career as a political staffer. During the campaign, she claims she was informed she could go home or work in Western Australia. Higgins traveled to Western Australia. On April 13, she informed police that she would not file a complaint.
What have others thought of it?
Morrison claims he just found out about the alleged rape on Monday. According to him, his office was made aware of the claims on Friday, February 12th. He claims Reynolds never informed him that one of her employees was reportedly abused by another government employee.
Reynolds has apologized unequivocally to Higgins, but in the Senate, she did not comprehensively answer a number of specific questions about her knowledge of events and her actions in the aftermath, such as whether she provided the member of staff she fired with a reference or assistance in finding another job. Reynolds cited police concerns as the basis for his hedging in the chamber. Her office, however, claims she did not provide a reference to the former employee and has had no contact with him since.
Following the 2019 election, Higgins moved to work for Senator Michaelia Cash. Cash claims she was first aware of the event in October 2019 as a result of a media query to her office, but she did not hear about the alleged rape until February 5 of this year. Higgins departed Cash's office in January of this year.
Do the government's statements add up?
Inconsistencies exist. Morrison claims his office was unaware of the alleged rape until February 12th, but Brown surely was. Brown served in Morrison's office before joining Reynolds and again following the 2019 election. So at least one member of his team was aware of the claims. Higgins also claims that another top Morrison employee, Yaron Finkelstein, phoned her to "check-in" about when a Four Corners exposé of Parliament House working culture will air in 2020. The government claims there is no record of the interaction, but departmental staff is investigating to confirm it.
Morrison has attempted to explain the disparity by noting that it is not customary for employees to discuss problems related to former work in their new offices. The administration has also asserted various things regarding the status of the investigation into the event. Earlier this week, top government officials refused to answer questions on the pretext that police were engaged (a line Reynolds has persisted with). Morrison said on Wednesday that Higgins had not pursued the police complaint.
What is being done to address the incident?
Morrison began by asking one of his own MPs and a deputy secretary in his department to brainstorm ideas for improving "the atmosphere" of Parliament House. He also recruited former university vice-chancellor Celia Hammond, a Liberal backbencher, to conduct an internal consultation process on how to enhance "professional behavior" in political offices. Morrison wrote to Labor leader Anthony Albanese on Wednesday night, requesting an independent evaluation of the appropriateness, efficacy, impartiality, and knowledge of present assistance provided to lawmakers and employees.
What has Brittany Higgins stated in reaction to the response?
Higgins is dissatisfied. She claims she learned about critical components related to the alleged assault via the media rather than from coworkers. Morrison has been accused of using "victim-blaming language," which she says is "personally extremely painful to me and many other survivors" of sexual assault.